CLOCK REPAIR:

Mechanical clocks require service to maintain reliability. They should be cleaned and oiled every seven to ten years to maintain optimal performance. If maintenance is neglected, problems experienced can include:
Gaining or losing time
It can quit striking properly
Parts can be damaged
Stop running altogether
When this occurs, your timepiece may require a complete overhaul. When we overhaul a movement we do a complete disassembly to examine each part, polish the pivots, replace any damaged parts and bushings, then reassemble the movement to verify all repairs. We then disassemble the movement again and clean it with an ultrasonic cleaner. Finally we reassemble the movement, lubricate it, regulate it and test that it is working properly, then refit the movement to the case. Once completely back together, we regulate the timepiece again to verify accurate timekeeping. A complete movement overhaul can run between $225.00 to $1600.00, depending on type and complexity of the movement.

We provide quality workmanship and guarantee our overhauls for one year. (Warranty does not cover mainsprings)

Other services offered include:
Oiling - $40.00
Cleaning and oiling - $225.00 (Time only) / $300.00 (Time & Strike) / $400.00 - $1600.00 (Time, Strike & Chime) - consists of complete disassembly of the movement, polishing pivots, ultrasonic cleaning, lubrication and reassembly of the movement (Essentially an overhaul minus bushing replacement)
Repair/replacement of most movements (dependent on parts availability) - Call or email for estimate
Striking/chime adjustment - Starts at $75.00
We also offer house calls (1.5hrs) for mechanical clocks and grandfather clocks. During a house call, we offer minor adjustments (anything that can be done to repair your clock without taking it out of its case). Every effort will be made to repair your clock in your home. It is not always possible to repair the clock in a customers home. If this is the case, you will be provided a new estimate of repairs so you can decide if you want your clock taken to the shop for further repairs.

The cost for house calls is as follows:
$125.00 for all clock types, additional clocks during a visit are $40 each
Additional charges may apply depending on your location
WATCH REPAIR:

Watch repair services are as follows:

FULL SERVICE - DISASSEMBLE, CLEAN, OIL AND ADJUST (COA)
Pocket Watch (pre-1920) - $350.00
Pocket Watch (post-1920) - $300.00
Pocket Watch (chronographs/repeaters/fusees/other complications) - By Estimate Only
Wrist Watch (manual wind) - $250.00
Wrist Watch (manual wind with date) - $275.00
Wrist Watch (automatic wind) - $300.00
Wrist Watch (automatic wind with date) - $350.00
High Grade Wrist Watches (Omega/Rolex/Patek/etc...) - By Estimate Only
Chronograph (2 register) - $700.00
Chronograph (3 register) - $800.00
Chronograph (automatic wind/calendar/other complications) - By Estimate Only
OTHER SERVICES OFFERED OR IN ADDITION TO COA PRICE IF APPLICABLE
Mainspring Replacement - $50 and Up
Balance Staff Replacement - $150 and Up
Hairspring Replacement or Reshaping - $300 and Up
Jewel Replacement - $100 and Up
Stem Replacement - $75 and Up
Crown Replacement - $50 and Up
Crystal Replacement - $40 and Up
Hand Replacement - $25 and Up
Quartz Movement Replacement - $100 and Up
Quartz Battery Replacement - $20 and Up
Case Gasket Replacement - $10 and Up
Spring Bar Replacement - $10 and Up
Bracelet Resizing - $5 and Up
Band Replacement - $5 and Up
All services, repairs and sales are also subject to Washington State Sales tax. The sales tax in Oak Harbor is 8.7% so please do not forget to calculate that in when figuring total costs.

Acceptable forms of payment include Cash, Visa, MasterCard, American Express, Discover
---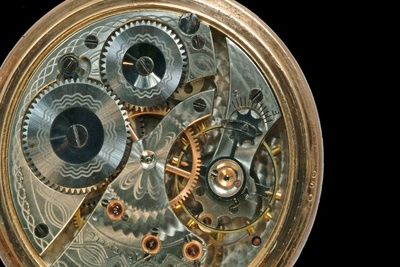 Call or email for appointment. If you wish to ship a timepiece for estimate/repair, you MUST contact us first.
(360) 320-1256
Email: rjc@islandclockandwatchrepair.com
LIKE US ON FACEBOOK